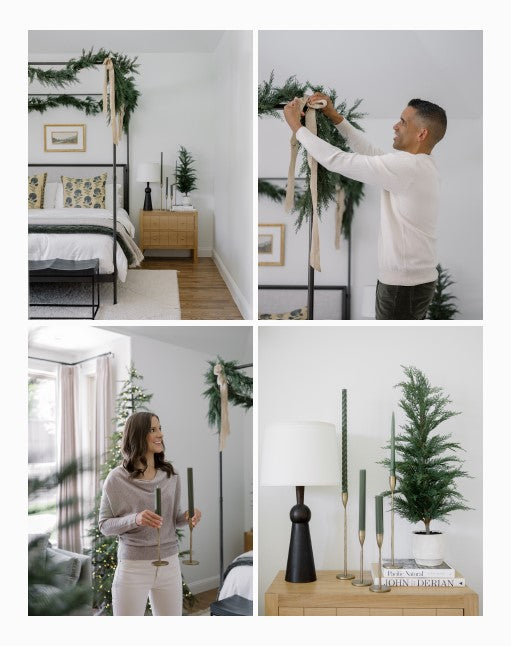 Sinclair & Moore: Shaping Your Faux Holiday Greenery
Sinclair & Moore: Shaping Your Faux Holiday Greenery

The holiday season is a time of celebration, joy, and festive decorations. To capture the magic of this season, many of us turn to holiday greenery like wreaths, garlands, and trees. While natural greenery has its charm, faux holiday greenery offers numerous advantages, including durability and reusability. But to make the most of faux greenery, you need to know how to shape and style it with finesse.

Sinclair & Moore, in collaboration with CG Hunter, offers an array of faux holiday greenery that allows you to transform your home into a winter wonderland with ease.

The Art of Shaping Faux Greenery
Shaping faux greenery is an essential step to achieve a lifelike and polished look in your holiday decor. Sinclair & Moore understands the significance of this process and offers greenery that is not only exquisite but also malleable and versatile. Here's how you can achieve the perfect shape for your faux holiday greenery:

Start with Quality Greenery: The foundation of any successful faux holiday greenery arrangement is the quality of the greenery itself. Sinclair & Moore's selection ensures that you're working with materials that mimic the beauty of the real thing.

Fluff and Adjust: When you receive your faux greenery, take some time to fluff and adjust it. Gently separate the branches and leaves to give it a fuller, more natural appearance. Pay attention to the symmetry and spacing to achieve a balanced look.  For specific shaping instructions, please click below.

Bend and Shape: Our faux greenery comes with bendable branches. Use this to your advantage. Shape the branches to create a more realistic form. If you're working with garlands, drape and arrange them gracefully to adorn your mantel or staircase.

Customize with Accessories: Sinclair & Moore also offers a variety of accessories, including ribbon and ornaments, that can be used to enhance your faux greenery. These accessories add a touch of holiday and can be easily integrated into your decor.
Why Choose Faux Holiday Greenery?
Faux holiday greenery from Sinclair & Moore by CG Hunter offers several benefits:
Durability: Faux greenery is designed to withstand the test of time. It won't dry out, shed needles, or wilt, ensuring your holiday decor remains vibrant throughout the season.
Versatility: Faux greenery can be used year after year, adapting to different decor themes and styles. This versatility is both cost-effective and eco-friendly.
Maintenance: With faux greenery, there's no need for regular watering or pruning. Simply store it properly after the season, and it will be ready to shine again next year.
Allergy-Friendly: For those with allergies, faux greenery offers a hypoallergenic alternative to natural greenery.

Sinclair & Moore, in collaboration with CG Hunter, empowers you to shape your faux holiday greenery with ease. Our high-quality faux greenery and accessories enable you to craft holiday decor that's both timeless and captivating. This season, transform your home into a holiday wonderland with faux greenery that radiates the spirit of the season.

From wreaths that adorn your front door to garlands that grace your staircase, Sinclair & Moore's faux greenery is the key to achieving a festive look that's as beautiful as it is enduring. Experience the joy of shaping your holiday greenery and let the magic of the season shine through every corner of your home.
Click to view our Issue No.1 Holiday 2023 Look book.