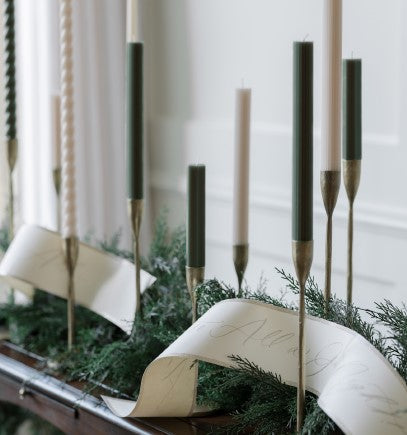 Creating & Illuminating Holiday Magic
Creating Holiday Magic: Sinclair & Moore by CG Hunter Candlesticks in Harmony with The Floral Society!

The holiday season is upon us, and what better way to enhance the festive spirit than by infusing your home with the warm, welcoming radiance of candlelight? Sinclair & Moore by CG Hunter presents an new set of candlesticks that artfully blend style, sophistication, and the magic of illumination. When combined with the exquisite candles from The Floral Society, you have the perfect recipe for crafting an enchanting holiday atmosphere, where mixing sizes and styles lets your unique decor shine.

Sinclair & Moore by CG Hunter Candlesticks

Our Candlestick Set adds texture and stands as a testament to timeless design and unmatched craftsmanship. The set is meticulously crafted to emanate holiday charm. Whether you're orchestrating an intimate family gathering or a grand holiday soirée, our candlesticks introduce a touch of refinement to any setting.
This remarkable set offers three distinct sizes, allowing you to purchase multiple sets and mix them to suit various occasions. No matter your holiday decor theme, our candlesticks are sure to have the perfect match, whether it's classic designs that evoke nostalgia or contemporary pieces that infuse a modern twist into your celebrations.

The Floral Society Candles: Where Quality Meets Tradition.

To complement the timeless beauty of Sinclair & Moore candlesticks, we turn to The Floral Society, a name renowned for their unwavering commitment to quality and craftsmanship. The candles from The Floral Society make for a delightful addition to your holiday decorations. Crafted with meticulous attention to detail, these candles not only deliver a stunning aesthetic but also ensure a long-lasting burn, casting a warm and gentle glow over your holiday celebrations.
Mixing Sizes and Styles: A Festive Flourish

One of the joys of holiday decorating is the creative freedom it affords. The mix-and-match approach with candlesticks and candles introduces a delightful twist to your holiday ambiance. Here are some inspiring ideas to get you started:

• Vary Heights: Experiment by pairing tall candlesticks with shorter ones to create dimension and visual intrigue, especially on your table or mantel.

• Blend Classic with Contemporary: Embrace the harmony of tradition and innovation by combining classic candlestick designs with modern candles for a unique and captivating juxtaposition.

• Play with Colors: Consider experimenting with candles of different hues that harmonize with your holiday theme. Whether soft blush, deep greens, or shimmering golds, colors can evoke a sense of holiday enchantment.

• Cluster for Impact: Form a captivating focal point by clustering various candlesticks and candles together, adding a sense of abundance and festivity to your decor.

This holiday season, let the elegance of Sinclair & Moore by CG Hunter candlesticks, accompanied by The Floral Society candles, guide the way to truly luminous celebrations. By mixing sizes and styles, you can craft an enchanting atmosphere that leaves an enduring impression on your family and guests.
Click to view our Issue No.1 Holiday 2023 Look book.

Remember, it's not just about lighting a candle; it's about illuminating the holidays with style and grace. Whether you're hosting a grand festive gathering or enjoying a quiet evening by the fireplace, the magic of candlelight is sure to make your holidays even more special. Explore the endless possibilities and ignite the spirit of the season with Sinclair & Moore by CG Hunter and The Floral Society.